Stakeholders as Researchers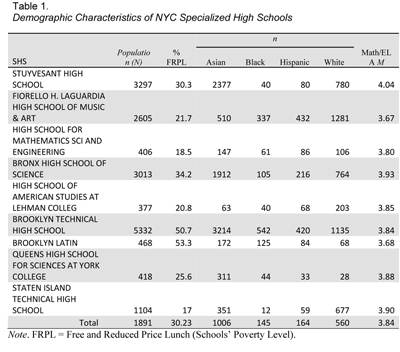 Is it a fact that few Blacks and Hispanic students attend NYC specialized high schools for the gifted and talented (G & T)? You must first examine the data to make a determination.
According to Holcomb( 2004), school report card data should:
• allow educational policymakers to make decisions on viability/continuity of schools,
• be the tools for aligning educators' effort to intervene in under-performing schools to increase student achievement (p. 9),
• help close the achievement gap by allowing parents, businesses, educators, community members to embrace the data in such a manner to show ownership and belief in their (data's)

capacity to bridge the achievement gap and improve educational outcome for all students.
My purpose is to help parents and other stakeholders analyze data.
Given that, most experts believe G & T students are found in 5% of the general school population (Houghton, 1994), are you (School Chancellor, Walcott, future Mayor, Bill de Blasio, and other stakeholders) satisfied that in 2011-2012, only 46 in every 1000 NYC Black students were deemed gifted, while 320 of every thousand ... were deemed gifted?
There are ramifications regarding biological determinism (being intellectually inferior) and the production of students who will become leading citizens. If educators do not hold high expectations of certain students, and certain students do not see role models in their community, it will be problematic. To clearly see the problem and learn what must be done, obtain a copy of my study:It Transcends Poverty: Factors Behind the Noted Absence of Blacks From New York City Specialized High Schools for the Intellectually and Artistically Gifted. Your donation will help me provide independent analyses, teach stakeholders how to conduct research, and support science and engineering-based after-school programs for youth.
References

Holocomb, E. L. (2004). Getting Excited About Data Second Edition: Combining People, Passion, and Proof to Maximize Student Achievement. Thousand Oak, California: Corwin
Houghton, L. I. H. (1994). Attitude and perceptions of giftedness among third-grade teachers in the Birmingham public school system (Doctoral dissertation). Retrieved from ProQuest Dissertations and Theses database. (Order No. 9434188)
Melguizo, T., & Wolniak, G. C. (2012). The Earning benefits of majoring in STEM fields among high achieving minority students. Research in Higher Education, 53(4), 383–405. doi:10.1007/s11162-011-9238-z

---------------------------------------------------------------------------------------------------------------------------------
It Transcends Poverty: Factors Behind the Noted Absence of Blacks From New York City Specialized High Schools for the Intellectually and Artistically Gifted
Rupert Green
Institute for Hands-on Science Engineering and Technology, Queens, New York
Research on New York City Specialized High Schools
Abstract

A descriptive study of 347 New York City (NYC) high schools (HS) to explore the absence of Black students from the specialized HS for gifted and talented (G & T) students found 3.2% Asian, 1.8% White, .52% Hispanic, and .46% Black students deemed gifted. Notwithstanding the saliency of poverty for the discrepancy, the trivial percentage of Black students was problematic and suggests a convergence of mitigating factors that limit the early identification and placement of potentially bright Black students in G & T programs. Mitigating factors suggest a racial undertone related to the historical pedigree of Blacks' relation with I Q testing. Recommendations include analyses of the procedures, practices, and effectiveness of the outreach, identification, and placement system as it relates to gifted and talented Black youth. The strengthening of the City's G & T schools/programs and the socioeconomic integration of its failing Black and Hispanic schools were also recommended.
Keywords: acting White; deficit thinking theory, nonverbal tests, alternative assessment test, stereotype threat, learning style, model minority, voluntary minorities, the immigrant effect